What are 'Next-Generation' Psychotherapy Services? A Quick Primer
This is obviously a great question that you have! These new psychotherapy services, also called 'second-' and 'third-wave' therapy services, are grounded in sound scientific evidence and have been tested in 1,000s of studies involving 10,000s of participants. Researchers from 100s of universities and research centres across the world deserve a huge 'kudos' for helping advance psychotherapy from some secretive and esoteric process into the science of change and happiness using concrete and present-focused interventions. So if you are looking for psychotherapy services that involve lying down on a couch and just talking to a psychologist who provides no direction or help, just like the character Betty Draper in the popular drama television series 'Mad Men', then these approaches are not for you. Although the past is important and always taking into consideration with these new-generation psychological services, we now use the past to help people change in the present moment.
Here is what characterizes these new psychology services and what it means for you: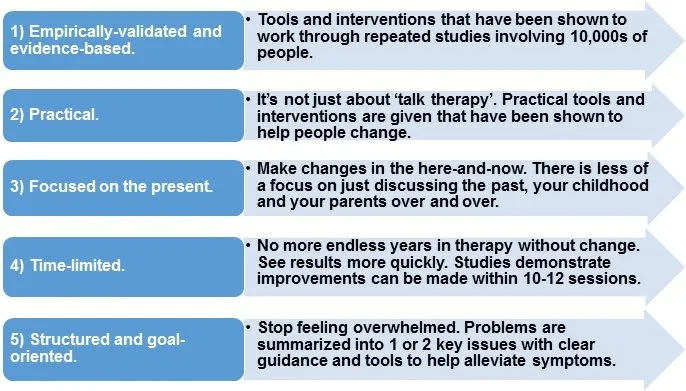 The best-supported new psychology services that fit the 'second and third wave' generation-concept include:
1. Cognitive Behaviour Therapy (CBT);
2. Acceptance & Commitment Therapy (ACT) and;
3. Mindfulness Skills and Positive Psychology, both of which increase overall psychological 'well-being'.
Although most psychologists tend to focus on just one of these approaches, my practice interconnects these three methods in order to ensure lasting changes. First, using CBT we focus on changing what is psychologically unhealthy as much as possible. But of course, sometimes certain things just cannot change no matter how hard we try. Thus, in a second phase, we focus on 'letting go' of what we cannot change and 'just be' and focus on living your life using principles from ACT. By giving up on fighting while letting things just 'exist' in the background you can focus on living a valued life. Just like letting someone argue by themselves while not engaging with them or ignoring a salesperson ringing at your door, eventually they will 'get the point' and just go away. And lastly, rather than just focusing on what is not going well as is the tradition with Psychologists today, I focus on providing strategies to increase your psychological well-being, happiness, resiliency, etc. by using principles from Mindfulness Mediation and Positive Psychology.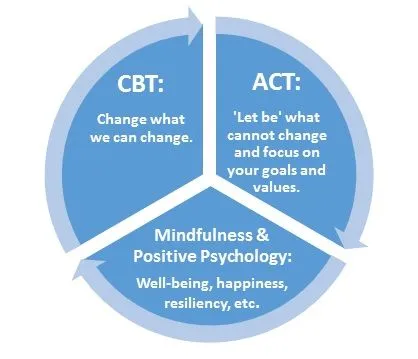 If you are looking for psychotherapy services that are practical, presented-focused and time-limited,
then these services are for you.
Contact Me for a free phone consultation about how these new therapy approaches can help you.